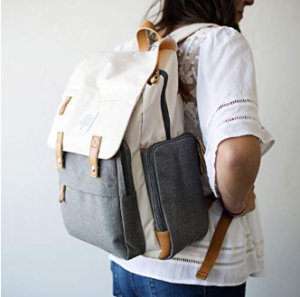 For moms with toddlers, backpacks are an absolute must-have accessory when you're on the go. Try traveling without one and you'll quickly see just how valuable these backpacks really are!
A mother on the go with a toddler needs to carry many things, from a countless supply of diapers to creams, wipes, multiple bottles and toys. The list is endless.
Hence investing in a decent back pack makes perfect sense! It literally makes your life easier.
So what makes an ideal backpack for moms with toddlers?
The best backpack for traveling moms with toddlers should do the following:
Provide a decent amount of storage,
Be handy, easy to carry, and light weighted
Be made of durable, water resistant fabric
Be washable
Have lots of storage pockets
Be easy to clean
Be comfortable to carry, shouldn't hurt your shoulders
So keeping the above features in our mind, let's review some of the best backpacks for traveling moms with toddlers, handpicked by our team of experts for you.
1. Itzy Ritzy Diaper Bag Backpack (Editor's Top Pick!)
Moms! Have you ever wanted a diaper bag backpack that didn't scream diaper bag? If yes, then here's your chance to buy something classy, yet it doesn't look like a diaper bag at all.
Yes, yes, you could still go around wearing your swag. With Itzy Ritzy Diaper Bag Backpack, carrying a backpack was never so much fun.
Honestly, if you want a multi-purpose, fashionable diaper bag that looks NOTHING like a regular diaper bag then we highly recommend this bag to you.
Helps moms stay organized
It's super chic and absolutely functional. It has 17 pockets for almost everything which helps moms to stay organized, instead of rummaging through the diaper bag to find what they are looking for.
Moms can even keep the soiled diapers separately without letting other belongings getting soiled or wet inside a backpack.
Rubber feet helps bag protect bag from getting dirty.
Also, bag bottoms tend to get dirty when you carry them to public washrooms, cars, grass, or on the floors of restaurants. The rubber feet on the backpack's bottom prevent it from getting dirty while also keeping the bag upright.
Matching stroller straps are provided to attach the bagpack with your stroller to provide ease. So that you enjoy shopping trips with your shoulders and back free of any burden.
The bag combines changing padded straps which makes it extremely comfortable to carry it on your back.
Now mothers don't have to compromise on style while carrying baby's essentials.  The vegan leather tassel is added as an afterthought to ensure mums look stylish at all times.
We highly recommend this diaper backpack for moms to a lot of new or expecting moms. With this backpack, get ready to receive compliments daily every time you go out.
Pros
Super chic and easy to carry.
Not just an ordinary diaper bag, moms can use it too.
Rubber bottom feet
Cons
Final verdict
Overall score: 5.0 Stars
On the basis of its remarkable features, reviews of many happy customers, and many pros and hardly any con. We would give this multiple use diaper backpack a 5 star rating. There are hardly any bags that pamper moms to such a great extent as this one does.
2. Bag Nation Diaper Bag Backpack
There are plenty of diaper bags available in the market, but hardly
there's any diaper bag that caters to all your needs as a mom.
The Bag Nation Diaper Bag Backpack claims to care for moms needs, and solve many of their problems, too. Hence we call it the best diaper backpacks for moms.
Let's see what this bag has in store for us.
FOURTEEN multi-sized pockets
The backpack diaper bag comes with FOURTEEN multi-sized pockets, which allow a dedicated space for each of the baby's gear you are travelling with.
Enjoy the luxury of having your hands free because your diaper bag can now be worn like a backpack, cool, isn't it? You can even make use of adjustable straps to strap it to your stroller for ease.
Outstanding Quality
With this backpack, rest assured, no compromises were made in the quality department. The backpack is water resistant, easy to carry and light weighted.
The zippers are of high quality and won't break. The backpack is stitched maintaining high quality standard, hence wont fray easily. It can perfectly bear all weight and won't lose its strength even when it's packed using its full capacity. Owing to its quality, we can say it's a backpack for life.
The backpack also combines an insulated pocket that has enough room for storing multiple bottles, and there's a dedicated pocket, for baby diapers, too.
Pros
Multiple pockets will help keeping soiled diapers separately.
Combines adjustable stroller straps.
Can be easy used for toddlers and older kids.
The backpack has neutral colors so both mommy and daddy can carry it.
Cons
A little on the expensive side
Final verdict
Overall score: 4.5 stars
Bag Nation Diaper Bag Backpack has everything a mom could ask for, premium quality back with nice finish, multiple pockets, and adjustable stroller straps. One drawback though, that it comes at a hefty price, but then again, one has to pay high price for premium quality. Hence, on the scale of 5, we would give it 4.5 star rating.
3. Large Capacity Diaper Bag Backpack
If you are looking to invest into a quality diaper backpack, then this backpack would be an ideal fit for you. Although it isn't the most creatively named product, this indeed makes an ideal diaper backpack for moms with toddlers.
Often moms feel frustrated at the faulty zippers-- when they just stop moving and get stuck. This bag uses the best quality, Ykk zippers, the same ones used in your designer clothing making it the most durable backpack and worth the money you spent on its purchase.
If you are a parent, you must be aware that traveling with a baby isn't an easy job. There are so many things that you need on the go with you, for e.g., baby clothing, diapers, wipes, bottles, toys, IPads, medicines, , and not to mention all  those last moment baby items that we may want to carry, in short the list is endless.
What makes this bag extremely functional?
14 organized pockets
4 dedicated insulated bottle pockets.
Mom and dad pockets for wallets and keys.
Two packing cubes combined for better organization
TWO PACKING CUBES are included to better organize baby belongings such as clothing and diapers. As things tend to get easily lost inside a large backpack, so including these two packing cubes prove to be such a blessing and helps mom stay organized.
Comfortable to carry around
With additional padding added on the back and shoulder straps makes it easy for mums to carry it with ease, as its super comfortable to wear.
Another feature to make mums' life easier is the built in stroller straps. Really, this one is a blessing in disguise, who has the time to attach these straps every time you need to use a stroller.
Makes a great baby shower gift for your loved ones!
The bag really has it all. From large capacity to, lots of pockets. The bag is well made with waterproof material. Hence, makes it an ideal gift for your loved ones on the occasion of baby shower.
Pros
Comfortable to carry around
Provide with multiple pockets and dedicated pockets for wipes and bottles.
Large room for all the essential baby items.
Built in stroller straps.
Durable
Unisex bag
Cons
Some people may find it large and heavy to carry around.
Final Verdict
Overall score: 4.8 stars
The bag has literally everything one could ask for. From larger capacity to lots of pockets. Made with premium material also assure its durability. The bag is also made with waterproof material which is a plus for moms. Considering its unlimited features, we would give it 4.8 star rating. Had it been handier or compact, we would happily give it a 5 star rating.
4. YavoBaby Diaper Bag Backpack
If you are sick and tired of replacing one diaper bag after another,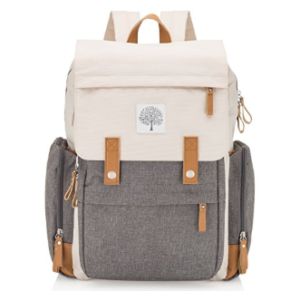 as they don't live up to the expectations, or hardly fit any claims made by the diaper bag's company, then here comes relief for you.  No doubt, the YavoBaby Diaper Bag Backpack is one of the best backpacks for traveling moms with toddlers.
Comfort, quality and convenience
The bag has everything you could possibly ask for, comfort, quality and convenience. The bag is designed keeping in mind the high quality standards so that customer's feel completely at ease and happy with their purchase, and they don't have to search for another quality diaper bag in the market.
The backpack design is lightweight and handy. It won't cause you any back pain unlike your previous backpacks. You can carry it with ease and comfort, without causing yourself a muscle train.
The backpack includes the following useful features,
14 pockets for better organizing baby accessories.
Combines Large Center Compartment inside a bag with built in tablet or laptop sleeve
Extra padding is provided for back, shoulder, lower back and strap.
Insulated compartments are provided at front and side for baby's snacks, foods and water.
3 Insulated bottle sleeves are provided for convenience.
Water resistant, durable, and light weight material, ideal for traveling.
Anti-theft zippered padding pocket provided at lower back.
Top handle provided for easy access.
Easy to access compartment for storing baby wipes is also provided with magnetic cover.
Detachable stroller straps, free portable changing pad, accessory pouch are also provided with the backpack.
Gender neutral design and color.
High quality zippers.
Pros
Lightweight and handy
Combines 3 insulated sleeves, and a large compartment with built in tablet or laptop sleeve
Anti-theft zippered padding pocket provided at lower back.
Uni-sex design
Can be attached to a stroller, too.
Cons
Zipper are not their stronger point.
Final verdict
Overall score: 4.9 stars
The backpack is a good pick for anyone looking forward to travel light, with 16 pockets provided it is also easier to organize your entire baby's supplies. This bag will surely make your traveling experience more enjoyable, without you needing to worry about anything. Owing to its numerous features and advantages, we would give this backpack 4.9 star rating.
5. Parker Baby Diaper Backpack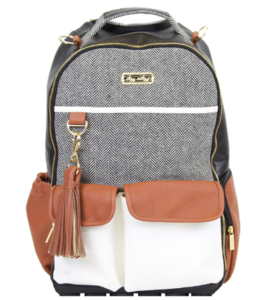 If the combination of style and function is what you are looking for, then the Parker Baby Diaper Backpack would make an ideal fit. Hence, we regard this as the best diaper backpacks for moms.
Yes, you can own a diaper bag that's both stylish AND practical.. The backpack includes all the functionality that you ever need without sacrificing style and comfort.
Premium quality, durable material
The bag is manufactured using premium quality material including water resistant polyester on the inside, and vegan leather accents on the outside of the bag for styling.
The backpack is designed keeping unisex color scheme in mind so both men and women can use it with ease.
Multiple POCKETS, INCLUDING INSULATED BABY BOTTLE HOLDERS
There are multiple, dedicated, pockets provided for better organizing. Also, the insulated side bottles pockets are ideal for traveling moms to keep the temperature of your baby bottles maintained.
Stroller straps and changing pads are included too.
Makes an ideal baby shower gift for your loved one.
Large capacity bag makes it easier to carry all your baby essentials on the go with easy to organize features.
Pros
Stylish and functional at the same time
Multiple pockets for better organizing.
Stroller straps and extra padding
Cons
Final verdict
Overall score: 4.1 stars
The backpack comes with all the essentials that one expects in a backpack, but then again all these backpacks in the market are pretty much offering the same features, and some offering additional features too at the same price, but having no warranty is a con that some people might take seriously. Hence we give it 4.1 star rating.
So that was our recommendation of some the best backpacks for moms with toddlers. I hope you've found this guide useful. These recommendations will save you time, energy, money, and headaches, and allow you to enjoy your time on the go with your toddler!
Happy Travels!
Related:
Great vacation pakage deals - up to 80% off!
Best Hotels In Orlando For Adults
Sponsored:
Recommended Additional Travel Tips For Moms With Toddlers: